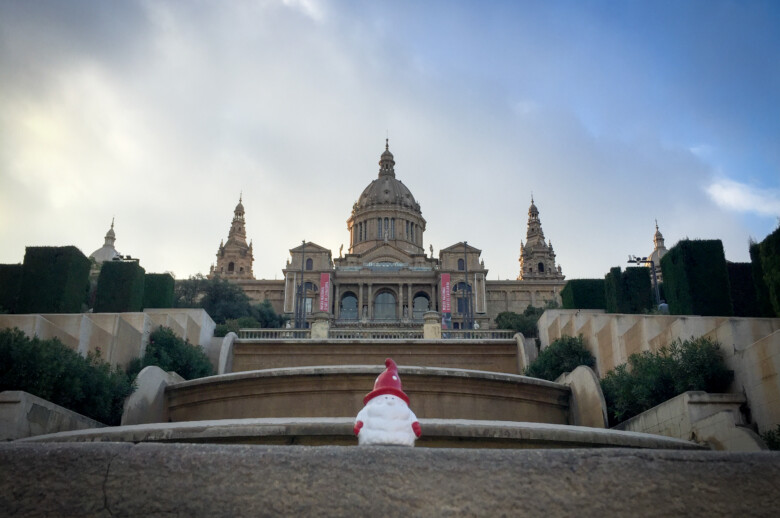 National Art Museum of Catalonia – Barcelona
Hi Folks,
Culture in Catalonia is beyond me. Messi, Neymar, Suárez… In Catalonia the work of the best known contemporary artists may be viewed at Camp Nou, the home stadium of FC Barcelona. Camp Nou is the largest stadium in Spain by capacity, yet it's too small for the greatnesses performing in it. In addition to football the Catalonians take Roman Catholicism quite seriously. Sagrada Família, a Catholic church in Barcelona, has been under construction since 1882. I heard from some Catalonians that they want to make sure that the Church will be large enough for the greatness that will perform there once the church is completed. Fair enough, I guess it would be dumb to repeat the mistake they made with Camp Nou. Regrettable I didn't ask who will be the main performed. Some say that Messi is the greatest – could it be he's signed a contract to appear also in Sagrada Família?
The huge palace in the photo is National Art Museum of Catalonia (abbreviation MNAC). MNAC is dedicated to Catalan art and design from the 19th and 20th centuries. At least the curators of MNAC have plenty of space. MNAC is the perfect spot to hang out they day after FC Barcelona's game. Here's an idea: why not sell combo tickets that would allow an entry to Camp Nou and also to MNAC. If the order is double sized, a tour around the construction site of Sagrada Família would be included.
– Gart
https://www.startescape.com/wp-content/uploads/2015/11/National-Art-Museum-of-Catalonia-Barcelona-scaled.jpg
1920
2560
Gart the Gnome
https://www.startescape.com/wp-content/uploads/2015/07/gnome.png
Gart the Gnome
2015-12-21 00:32:19
2015-12-21 21:07:22
National Art Museum of Catalonia – Barcelona