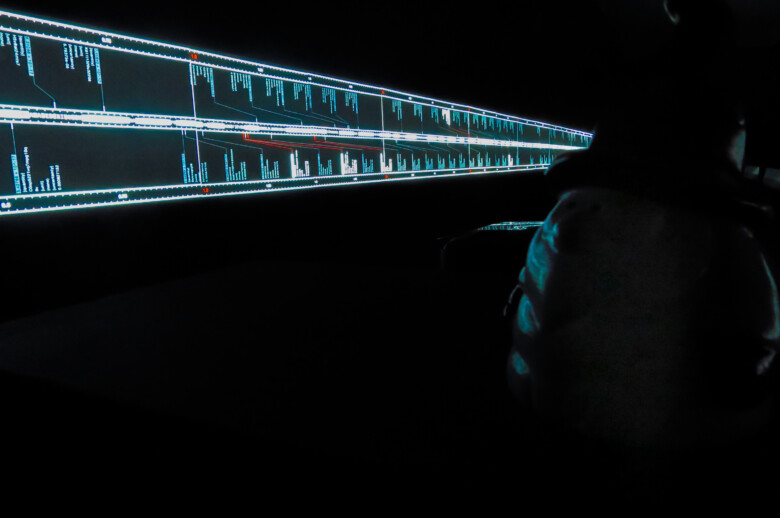 supersymmetry – Ryoji Ikeda
Hi Folks,
Ryoji Ikedas exhibition project supersymmetry (2014-) welcomes the visitors with the following sign: "The installation contains high and low audio-frequency and flashing lights that may be disturbing". In my humble opinion the content of the sign is an understatement. I would replace 'that may be' with 'that is guaranteed to be'.
Ikeda created the concept for supersymmetry during an art residence at CERN (The European Organization for Nuclear Research). CERN operates the largest particle physics laboratory in the world. The title of Ikeda's exhibition project is derived from the theory of supersymmetry, which attempts to explain why particles have mass and is obviously somehow connected to the theory of superparticles. That is just SUPER! And what is also super is that the research conducted in CERN might shed light on all the things that are Super (including superparticles).
If you happen to be in Tallinn, Estonia in February, you should definitely visit Kumu Art Museum. That's where you can witness weird frequency sounds, noise and lights appear in collisions creating something disturbing but super in the form of Ikeda's supersymmetry.
– Gart
https://www.startescape.com/wp-content/uploads/2016/01/Supersymmetry-Ryoji-Ikeda-scaled.jpg
1920
2560
Gart the Gnome
https://www.startescape.com/wp-content/uploads/2015/07/gnome.png
Gart the Gnome
2016-01-31 20:14:19
2016-09-07 22:22:02
supersymmetry – Ryoji Ikeda