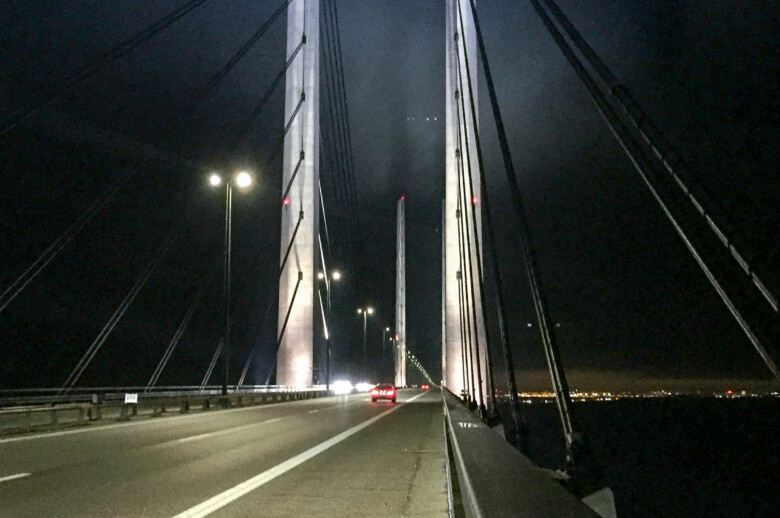 Øresund Bridge, Copenhagen – Denmark
Hi Folks,
A body cut in half was found some years ago on this very spot in the middle of Øresund Bridge connecting Denmark with Sweden. Terrible incidence all together. The location of the body caused some confusion in the police departments' jurisdiction and the investigation made big news. A Swedish police detective Saga Norén was teamed up with Martin Rohde from Danish police to investigate the case. Never has the collaboration between Danish and Swedish authorities been so smooth and beautiful. You may look up all about it in internet.
Øresund Bridge is magnificent. The lights on the background in the photo is Copenhagen. In that sense my nose is pointing to the wrong direction, namely to the Swedish city of Malmö. After my pal Zlatan Ibrahimović left Malmö, not that many good things remained there. If you happen to be in the same spot, make sure you continue your way to the beautiful Copenhagen instead Malmö. Some of the happiest people live in Copenhagen, as Denmark often ranks the happiest country in the world. In Copenhagen, just stroll around and you will find out why they are feeling so good.
-Gart
https://www.startescape.com/wp-content/uploads/2016/11/Øresund-Bridge-Copenhagen-Denmark-scaled.jpg
2560
1920
Gart the Gnome
https://www.startescape.com/wp-content/uploads/2015/07/gnome.png
Gart the Gnome
2016-12-29 00:52:59
2016-12-29 16:35:17
Øresund Bridge, Copenhagen – Denmark