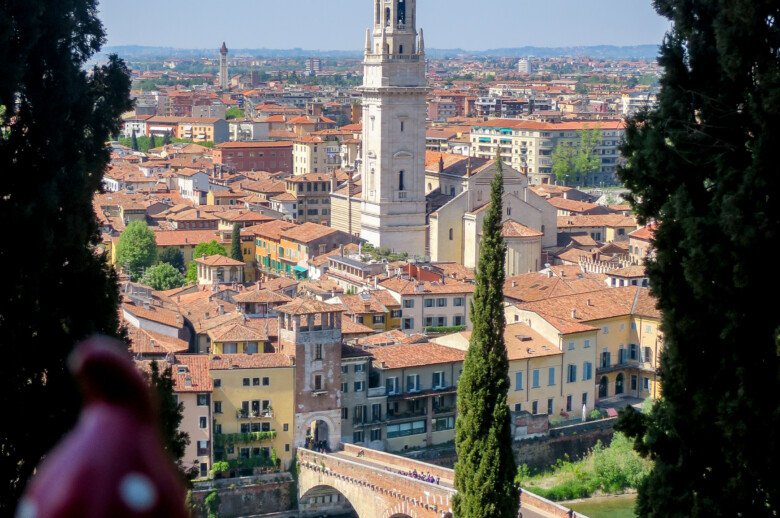 Hi Folks!
The panoramic view from Castel San Pietro over Verona gives only a hint of the beauty of this marvelous city. The bridge in the photo was built by Romans and is called the Ponte Pietra. The tall construction is the bell tower of Verona Cathedral. I could go on and on about the sights in Verona. The Roman and medieval landmarks in Verona are just overwhelming and the restaurants serve the finest dishes in northern Italy. It is no wonder that three of Shakespeare's plays are set in Verona. Although Shakespeare never even visited the city, what a shame.
Verona is known as the city of love. If you are planning to visit there, you should see Baz Luhrmann's document Romeo + Juliet (1996) to get into the right mood for diving into Verona's vivid social life. The document is about Romeo DiCaprio and his girlfriend Juliet Capulet who lived in Verona some years ago. One could say that they had some difficulties in their relationship. It only shows that not even all the Veronese have luck in their love.
The courtyard beneath Juliet's balcony is the most visited sites in the town. Aaw, people are so romantic. But for real, get a grip! It's only a balcony and you can see it in the photo right below.
– Gart
https://www.startescape.com/wp-content/uploads/2017/07/Verona-Italy-scaled.jpg
2560
1920
Gart the Gnome
https://www.startescape.com/wp-content/uploads/2015/07/gnome.png
Gart the Gnome
2017-09-17 01:14:14
2017-09-17 10:19:03
Verona – Italy